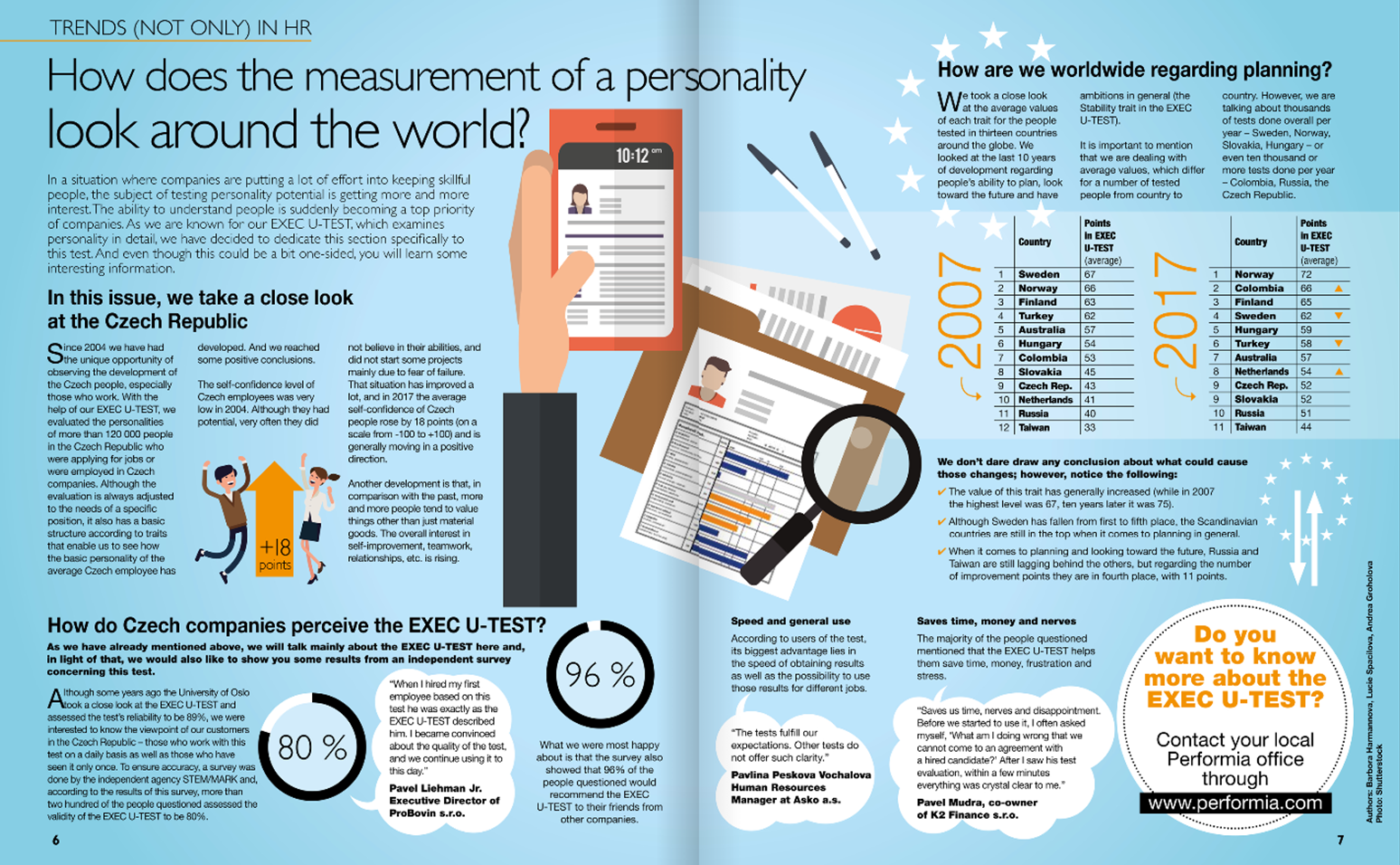 Trends (not only) in HR
How does the measurement of a personality look around the world
In a situation where companies are putting a lot of effort into keeping skillful people, the subject of testing personality potential is getting more and more interest. The ability to understand people is suddenly becoming a top priority of companies. As we are known for our EXEC U-TEST, which examines personality in detail, we have decided to dedicate this section specifically to this test. And even though this could be a bit one-sided, you will learn some interesting information.

In this issue, we take a close look at the Czech Republic
Since 2004 we have had the unique opportunity of observing the development of the Czech people, especially those who work. With the help of our EXEC U-TEST, we evaluated the personalities of more than 120 000 people in the Czech Republic who were applying for jobs or were employed in Czech companies. Although the evaluation is always adjusted to the needs of a specific position, it also has a basic structure according to traits that enable us to see how the basic personality of the average Czech employee has developed. And we reached some positive conclusions.
The self-confidence level of Czech employees was very low in 2004. Although they had potential, very often they did not believe in their abilities, and did not start some projects mainly due to fear of failure. That situation has improved a lot, and in 2017 the average self-confidence of Czech people rose by 18 points (on a scale from -100 to +100) and is generally moving in a positive direction.
Another development is that, in comparison with the past, more and more people tend to value things other than just material goods. The overall interest in self-improvement, teamwork, relationships, etc. is rising.

How do Czech companies perceive the EXEC U-TEST?
As we have already mentioned above, we will talk mainly about the EXEC U-TEST here and, in light of that, we would also like to show you some results from an independent survey concerning this test.
Although some years ago the University of Oslo took a close look at the EXEC U-TEST and assessed the test's reliability to be 89%, we were interested to know the viewpoint of our customers in the Czech Republic – those who work with this test on a daily basis as well as those who have seen it only once. To ensure accuracy, a survey was done by the independent agency STEM/MARK and, according to the results of this survey, more than two hundred of the people questioned assessed the validity of the EXEC U-TEST to be 80%.
"When I hired my first employee based on this test he was exactly as the EXEC U-TEST described him. I became convinced about the quality of the test, and we continue using it to this day."
Pavel Liehman Jr. Executive Director of ProBovin s.r.o.
What we were most happy about is that the survey also showed that 96% of the people questioned would recommend the EXEC U-TEST to their friends from other companies.

How are we worldwide regarding planning?
We took a close look at the average values of each trait for the people tested in thirteen countries around the globe. We looked at the last 10 years of development regarding people's ability to plan, look toward the future and have ambitions in general (the Stability trait in the EXEC U-TEST).
It is important to mention that we are dealing with average values, which differ for a number of tested people from country to country. However, we are talking about thousands of tests done overall per year – Sweden, Norway, Slovakia, Hungary – or even ten thousand or more tests done per year – Colombia, Russia, the Czech Republic.

We don't dare draw any conclusion about what could cause those changes; however, notice the following:
The value of this trait has generally increased (while in 2007 the highest level was 67, ten years later it was 75).
Although Sweden has fallen from first to fifth place, the Scandinavian countries are still in the top when it comes to planning in general.
When it comes to planning and looking toward the future, Russia and Taiwan are still lagging behind the others, but regarding the number of improvement points they are in fourth place, with 11 points.

Speed and general use
According to users of the test, its biggest advantage lies in the speed of obtaining results as well as the possibility to use those results for different jobs.
"The tests fulfill our expectations. Other tests do not offer such clarity."
Pavlina Peskova Vochalova Human Resources Manager at Asko a.s.

Saves time, money and nerves
The majority of the people questioned mentioned that the EXEC U-TEST helps them save time, money, frustration and stress.
"Saves us time, nerves and disappointment. Before we started to use it, I often asked myself, 'What am I doing wrong that we cannot come to an agreement with a hired candidate?' After I saw his test evaluation, within a few minutes everything was crystal clear to me."
Pavel Mudra, co-owner of K2 Finance s.r.o.

Do you want to know more about the EXEC U-TEST?
Contact your local Performia office through www.performia.com