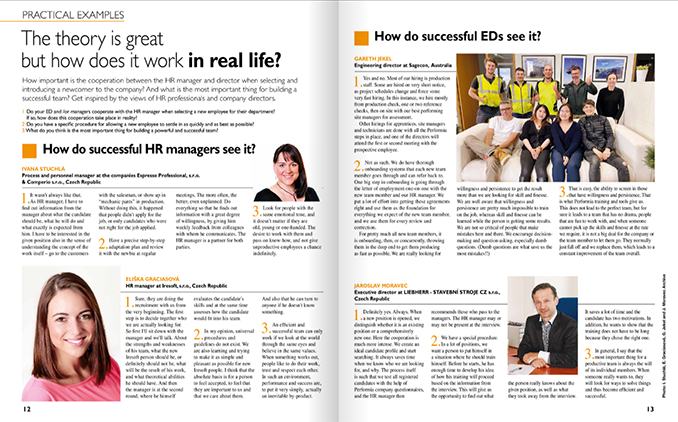 The theory is great – but how does it work in real life?
How important is the cooperation between the HR manager and director when selecting and introducing a newcomer to the company? And what is the most important thing for building a successful team? Get inspired by the views of HR professionals and company directors.
1. Do your ED and/or managers cooperate with the HR manager when selecting a new employee for their department? If so, how does this cooperation take place in reality?
2. Do you have a specific procedure for allowing a new employee to settle in as quickly and as best as possible?
3. What do you think is the most important thing for building a powerful and successful team?
How do successful HR managers see it?
Ivana Stuchlá,
Process and personnel manager at the companies Espresso Professional, s.r.o. & Comperio s.r.o., Czech Republic
It wasn't always like that. As HR manager, I have to find out information from the manager about what the candidate should be, what he will do and what exactly is expected from him. I have to be interested in the given position also in the sense of understanding the concept of the work itself – go to the customers with the salesman, or show up in "mechanic pants" in production. Without doing this, it happened that people didn't apply for the job, or only candidates who were not right for the job applied.
Have a precise step-by-step adaptation plan and review it with the newbie at regular meetings. The more often, the better, even unplanned. Do everything so that he finds out information with a great degree of willingness, by giving him weekly feedback from colleagues with whom he communicates. The HR manager is a partner for both parties.
Look for people with the same emotional tone, and it doesn't matter if they are old, young or one-handed. The desire to work with them and pass on know-how, and not give unproductive employees a chance indefinitely.
Eliška Graciasová
HR manager at Iresoft, s.r.o., Czech Republic

Sure, they are doing the recruitment with us from the very beginning. The first step is to decide together who we are actually looking for. So first I'll sit down with the manager and we'll talk. About the strengths and weaknesses of his team, what the new Iresoft person should be, or definitely should not be, what will be the result of his work, and what theoretical abilities he should have. And then the manager is at the second round, where he himself evaluates the candidate's skills and at the same time assesses how the candidate would fit into his team.
In my opinion, universal procedures and guidelines do not exist. We are also learning and trying to make it as simple and pleasant as possible for new Iresoft people. I think that the absolute basis is for a person to feel accepted, to feel that they are important to us and that we care about them. And also that he can turn to anyone if he doesn't know something.
An efficient and successful team can only work if we look at the world through the same eyes and believe in the same values. When something works out, people like to do their work, trust and respect each other. In such an environment, performance and success are, to put it very simply, actually an inevitable by-product.
How do successful EDs see it?
Gareth Jekel
Engineering director at Sagecon, Australia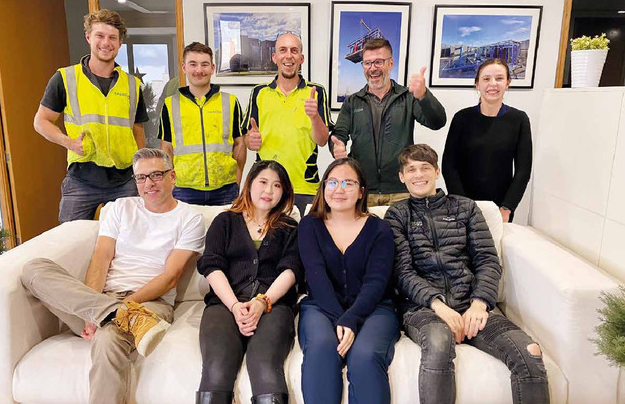 Yes and no. Most of our hiring is production staff. Some are hired on very short notice, as project schedules change and force some very fast hiring. In this instance, we hire mostly from production check, one or two reference checks, then on site with our best performing site managers for assessment.
Other hirings for apprentices, site managers and technicians are done with all the Performia steps in place, and one of the directors will attend the first or second meeting with the prospective employee.
Not as such. We do have thorough onboarding systems that each new team member goes through and can refer back to. One big step in onboarding is going through the letter of employment one-on-one with the new team member and our HR manager. We put a lot of effort into getting these agreements right and use them as the foundation for everything we expect of the new team member, and we use them for every review and correction.
For pretty much all new team members, it is onboarding, then, or concurrently, throwing them in the deep end to get them producing as fast as possible. We are really looking for willingness and persistence to get the result more than we are looking for skill and finesse. We are well aware that willingness and persistence are pretty much impossible to train on the job, whereas skill and finesse can be learned while the person is getting some results. We are not so critical of people that make mistakes here and there. We encourage decision-making and question-asking, especially dumb questions. (Dumb questions are what save us the most mistakes!!)
That is easy, the ability to screen in those that have willingness and persistence. That is what Performia training and tools give us. This does not lead to the perfect team, but for sure it leads to a team that has no drama, people that are fun to work with, and when someone cannot pick up the skills and finesse at the rate we require, it is not a big deal for the company or the team member to let them go. They normally just fall off and we replace them, which leads to a constant improvement of the team overall.
Jaroslav Moravec
Executive director at LIEBHERR – STAVEBNÍ STROJE CZ s.r.o., Czech Republic

Definitely yes. Always. When a new position is opened, we distinguish whether it is an existing position or a comprehensively new one. Here the cooperation is much more intense. We create an ideal candidate profile and start searching. It always saves time when we know who we are looking for, and why. The process itself is such that we test all registered candidates with the help of Performia company questionnaires, and the HR manager then recommends those who pass to the managers. The HR manager may or may not be present at the interview.
We have a special procedure. In a lot of positions, we want a person to put himself in a situation where he should train himself. Before he starts, he has enough time to develop his idea of how his training will proceed based on the information from the interview. This will give us the opportunity to find out what the person really knows about the given position, as well as what they took away from the interview. It saves a lot of time and the candidate has two motivations. In addition, he wants to show that the training does not have to be long because they chose the right one.
In general, I say that the most important thing for a productive team is always the will of its individual members. When someone really wants to, they will look for ways to solve things and thus become efficient and successful.