Linda Steele & Steve Hansen: If you have productive, honest, and loyal staff, you can train them in anything you need
Linda and Steve met at River Rooster / CHOOKS fresh & tasty in 1997. Steve was the owner of the brand and growing a new franchise, and Linda started to help him with her expertise in advertising and marketing. Soon she joined the company as General Manager until Steve sold this network of 43 stores in 2010. During this time, Linda was awarded with the 2006, 2007, 2008 and 2012 FCA Excellence in Franchising Woman in Franchising award for Western Australia. Steve was the President of the Western Australia Chapter of the Franchise Council of Australia from 2003 – 2008, and both Linda and Steve have been state committee members of the Franchise Council of Australia for many years.
Now they are partners at Think DONE Management Consultancy full time. Steve is the "King of Strategy" and Linda is the "Queen of Efficiency". What do they do? Help executives to get things done. Here we present an interview with Linda and Steve.
Linda, could you give me a short summary of your company and what you do?
DONE is the most powerful word in the universe, and everything we have developed is around that one word. When we first started consulting, we were called "Think BIG"; but not everyone wants to be big – they want to be solid and get stuff DONE, so we changed our name to better reflect our philosophy. Our business is helping businesses to become more efficient from an organisation point of view; to get them to think strategically and tactically: all the little things that have to be done. We also specialise in franchising.
Steve, tell me how Think DONE is unique for your clients? What do you offer that other companies do not?
What I find with every company is that there are two things missing or not done as well as they could to be. No or illogical planning and bad organisational structure often results in the inability to get plans fully executed.
The challenge is said to be the failure to implement whatever the plan might be. Consultants say this is the owner's problem, and we say it is the consultant's issue.
What we do is find out what the issue is at the time, what's needed, and what's also needed long-term, and then get our clients to accomplish what is needed.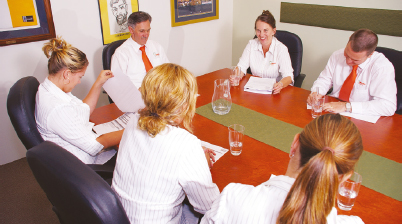 Steve and
Linda with the
fabulous CHOOKS
management
team, working
through their
weekly plans.
Steve, what are some of the biggest challenges that business owners have in your experience of working with them at Think DONE?
In most cases, the biggest challenge and the problem is the owners. Owners tend to do what they know and like. The biggest challenge, they say, is people and their problems.
They will say finance, lending; can't get a loan, can't find the right people. All those come along if they don't have systems and procedures in place to know what they are actually looking for. They don't have the organisation in place to know what they need.
But it goes back to the business owner first and understanding first that they don't know. They also tend to make reactive decisions, whereas decisions need to be commercial and proactive.
Linda, how many staff did you have when you first started working with Performia in CHOOKS fresh & tasty and how many were there in the final year?
We started working with Performia in 2006. We had 19 stores and 300 staff. By 2010, when we sold, we had 39 stores plus 4 being built to make a total of 43. We had roughly 700 staff at that point.
Steve, what was your first experience working with Performia?
I first had a Performia evaluation on myself. We all think we are better than we are. I took notice of some of the things mentioned and was able to improve with training. I enjoyed the training and could easily relate to it.
Before you started working with Performia, what problems did you encounter regarding personnel?
We had big problems in the franchisee area. We were taking on franchisees who were good people, but we didn't know how to manage them. Some were not suitable for franchising, some not suited to running a business. We took them on in the early days because we thought we could get on with them… if they had a heartbeat we would consider them, but that's not how you do franchising. We learnt the hard way.

Linda, was it hard to find productive people for CHOOKS fresh & tasty?
It was hard to find the right franchisees. We were not just looking to find someone to cook chicken. We were looking for people we could train to look after their team. Being able to find franchisees was the reason we went to do the Performia training.
Linda, the company grew significantly. What do you think is behind this success?
We had a fantastic team at the head office. The team we had were very cohesive, worked together, and we were all on the same page. When we sold in 2010, I hadn't had anyone leave our team for 2 years. Staff retention was very high. This was obviously from choices we had made using Performia and the training that went with it. We also had a fantastic bunch of franchisees.
Steve, before you started working with Performia, what problems did you encounter regarding personnel?
When I had 5 stores and 120 staff, I was powerful as a franchisee. The reason I became a franchisor was because people wanted to use my brand. I had an idea that we wanted 15 stores, but we made all the mistakes that we possibly could. We had 15 disasters.
Even when we were trained and licensed to use the Performia hiring system, I went against the recommendation on 3 cases, and those 3 decisions cost me one million dollars. I went against the recommendations of Performia and our entire team. I thought I was trying to be nice to somebody. I thought I could help them, change them. And I did this three times.
Linda, has measuring productivity in your company changed interactions within the team?
It can be absolutely fantastic. Productive people love it; it gives them that new challenge. Up is good, down is not good, and they want that graph to go up. When they learn it's about getting production increasing, they produce more, they start playing the game and start being a team.
Linda, what do you think is the biggest advantage of using the Performance check?
The certainty you would get that the person could understand what production was and play the game to improve and succeed.
Can you imagine hiring people without checking productivity or without measuring it?
SH: Wouldn't even consider it. We wouldn't take anyone without some good evaluation and knowing and understanding they are about production, incentive, reward for production, and understand the penalty for no production.
LS: I cannot think of any other way of doing it. I have seen some clients hire in the most unusual way. It is a waste of time and a waste of personal energy. You place your heart and soul in someone and think they will be fantastic.
Performia can give you such valuable information, to know what are the true colours of any employee before they're hired or interviewed.
Would you recommend checking and measuring productivity to others? Why?
LS: I would. It saves you time, heartache, money. You have better things to do with all your resources than devote them to a maybe/average candidate.
SH: Yes! Businesses need good, honest and loyal staff who are ethical. If you have this, you can train them in knowledge they might lack. When hiring in this form, your values and culture will come through.